polka dot blouse // thrifted
white lace embelished t-shirt // Fred Meyer
white linen skirt // thrifted
brown flats // thrifted
bottle-cap necklace // won in a giveaway
bracelet // gifted
I'm linking to...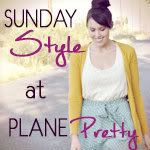 You'll be seeing this hairstyle a lot this summer. We're finally getting some hot weather up here in North Idaho and getting all of my hair up off of my neck is an absolute must now! Hooray for sizzling weather just in time for the 4th of July!! I'll definitely be jumping in the pond this week. *grin* Anyway, I was very pleased with my outfit this Sunday. I was aiming for cool, comfortable, and something that wasn't too snug around the waist since I sang with my brother at our church Music Night. We sang In Christ Alone, one of my very favorite hymns. A tight waistband is the last thing you need when you're trying to breath properly while combating intense stage fright. *wink* Actually, I wasn't nearly as nervous as I was the first time, thanks very much to our sermon that morning.
The title was Faith vs. Fear. We continued our study of the life of Abraham and focused on how fear was the opposite of faith. It was a powerful message and exactly what I needed to hear! Pastor gave us three verses to memorize to encourage us when fear is getting the better of our faith. They're familiar to all of us and are 2 Timothy 1:7 (If you are fearful in a faith situation, the fear is not from God), Hebrews 13:5&6 (God is always with us), and Isaiah 26:3 (God wants us to trust Him).
: :
Question: What are some of your favorite Bible verses when you're feeling afraid?