o u t f i t
cream tank top // thrifted
pink sandals // stolen borrowed from my mom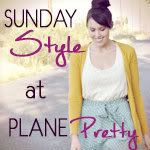 Introducing my second
eShakti
dress. Once again, I LOVE it! And once again, from their overstock section...because I'm cheap and don't part with my money easily. Which is probably a good thing...anyway. Aside from not having the custom options available when you shop overstock - thus the layered tank top to raise the neckline a bit - so far it's been completely fantastic! The construction and details on this dress are fabulous, and it's definitely the perfect shade of green for me. I love pairing it with the pink sandals...even though they pinch a bit. Suffering is easier when you love your outfit.
*grin*
There's still time to use my eShakti referral code! It expires tomorrow!
BONNN201
gets you $40 off on your first purchase!
: :
Today was a beautiful Sunday! We continued in our study of the life of Abraham in the book of Genesis, focusing on walking by faith. It was a message I personally really needed to hear. Definitely some convicting going on. The fellowship after church was so wonderful, so precious. I am so, so blessed. So thankful that the Lord led us to this church family.
This week is about to
explode
. VBS starts tomorrow (hooray!), the cherries are ripe and ready to be picked, we're getting a load of hay, my bro is heading out for a week long trip, the thistles are starting to get out of hand in the sheep pasture (why must there always be weeds?!), I have several sewing orders to work on, there are ripe berries
everywhere
(raspberries, service berries, huckleberries, thimbleberries, you name it!), and I really just want to ride my horse. And if it sounds like I'm complaining, nope. I'm actually starting to enjoy all of this summer busyness..although lazy summer days with a book are grand, too.
*grin*
Question: Do you have "wild" berries that are unique to your area? Like, Idaho has huckleberry everything. So, do you? I want to know!