: :
o u t f i t
blouse // thrifted
pleated skirt // thrifted
shoes // thrifted
hotair balloon necklace // gifted
: :
I fell in love with the print on this skirt the instant I saw it. It reminds me of spring and sidewalk cafes and Paris. And it's
pleated
. I'm a sucker for knee length pleated skirts. I've been intentionally incorporating more peachy pinks into my wardrobe, so you'll be seeing that color a lot this year. Also loving the sleeves and yoke on this blouse. So adorable. I love thrifting way to much. *grin*
: :
I'm linking up with...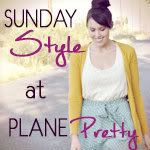 : :
I don't know that any fathers read my blog but if you're a father (and even if you're not) Happy Fathers Day!
I made my daddy cheesecake and fixed one of his favorite dinners for him. The fact that it was a no bake box mix cheesecake makes no difference - besides, he's the one who brought it home. Hard to miss a hint like that. *smile*
Question: What did you do to make your dad's day special? I want to know!