my bestie was making me laugh - thank you, dear. ;)
brown flats // thrifted
braided belt // Fred Meyer
German sheep brooch // gifted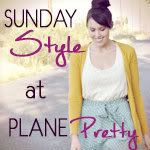 All I can say is, eShakti.
This was my first dress from them, and I would wear it every day if I could. I really can't say enough good about this dress. It's so comfortable, fits wonderfully, and I bought it from their overstock section. And used the $25 GC I got for joining. So it only cost me about *whispers* $15. Eeep!! The beige color, while not my first choice, is so versatile, and I love the 50s look!
: :
How was everyone's Sunday? Mine was really nice. Time spent with my family in Christ, laughing in the car with my bestie and bro, relaxing and watching Princess O'Rourke once we arrived home. Yep, it was really nice. Our pastor started a new series in church today, on the life/faith of Abraham. The focus today was on the Lord's promises and instructions to Abraham, found in Genesis 11 & 12, and the faith he had in following His directions...although he didn't always obey right away. The main point I went home with was that in order for His promises to be fulfilled, we need to seek Him first and fulfill our side of the promise. I came away feeling refreshed and encouraged. If the rest of the series is like today's sermon, then we're all in for a treat during these next months!