o u t f i t
bow slouch hat
//
Wool & What-not
{etsy}
denim jacket
// thrifted
grey shirt
// thrifted
grey undershirt
// thrifted
denim skirt
// Chadwicks
black flats
// Fred Meyer
TARDIS Starry Night necklace
//
Doomsday Studios
{etsy}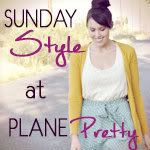 New favorite outfit. It's cozy, comfy, and I can dress it up or down. Win.
: :
Today felt...well, I'm going to steal a word from Kellie and say today felt rumply. Just sort of...off. A bit confusing, not entirely bad...something you can't quite put your finger on. At least, that's how I interpret rumply.
Just as church was starting, I ended up in a rather awkward situation, seating wise. After switching seats with my bro during our greeting time, I ended up sitting next to a guy I had never met before for the rest of the sermon. Awkward. And he could have seriously moved over and given us more space, too. There was at least four feet of free space on the other side of him. I think his name was Jeremy. We're not terribly fond of Jeremy. (Sorry Jeremy, it's nothing personal, but you did create a completely unnecessary situation.) I guess we could have asked him to move over a bit, but we're too polite...or something. (And lest you, my dear readers, misinterpret, the above is pure sarcasm. I do apologize.) Anyhow...that kicked things off to a rumply start, but everything was back to normal by the end of the sermon...aside from my rumply thoughts. Sometimes, I think too much. Sometimes, I use italics too much.
The sermon was from Genesis 21, continuing the story of Abraham. It was a good message. I love how our pastor gets into the historical side of the Bible. The well in the story, Beersheba, is still there to this day. Pretty awesome, huh?!
What was your day like? What was your sermon about? I want to know!