floral blouse // refashioned by me {it began life as a thrifted jumper}
green linen skirt // made by me
brown flats // thrifted
necklace // stolen borrowed from my mom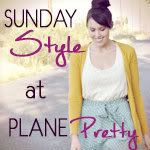 I already loved this outfit, but after getting a lot of compliments at church yesterday, I'll definitely be wearing it again. Must have done something right!
*smile*
Kellie says it looks like something Elinor Dashwood would wear, and I have to agree. I love the soft colors, vintage vibes, texture...just, everything. And the fact that I
finally
discovered what that thrift store jumper wanted me to refashion it as! I love the print so much, and the fabric is so soft. Thanks and much love to
Kellie
for taking the pictures:)
Yesterday's sermon gave me much to ponder and puzzle over. It was on church membership. I've never, ever been an official, verified member of a church. My family just hasn't ever done that. I personally didn't agree 100% with our pastor's interpretation of the scriptures he used to back up his message. Membership to me, makes a church sound like a club...like 4-H or Cub Scouts or something. Just hearing the word makes church seem cheap. Just another place you go to hang out or something. A church isn't a club...it's not even the building - it's the people, the body of Christ.
Pastor Peabody did make some several good points, one of which was that church membership makes it possible to verify that you are a saved Christian for teaching/ministry purposes within the church. I can totally understand that you wouldn't want just anybody teaching a Sunday School class. But...I still don't agree with the basic idea of church membership, and after pondering the scriptures we read yesterday, my opinion/interpretation still stands. We verify our salvation by publicly confessing our faith and being baptized. Not like I'm an expert or anything, but that's what I got from it. And if you're a member of a church, I certainly don't look down on you. I mean, that's your decision to make! This is just my thoughts on church membership.

It was the perfect Sunday...but then, it's hard to ruin a potluck Sunday. Unless you get in line and there's no food left. That's always a bummer. But food aside, the sweet fellowship with friends and hymn singing is incomparable. There's nowhere else I'd rather be...it's like eating a chocolate sundae. Sooo delicious. And the spontaneous hang out in the parking lot was the cherry on top. Just sayin'.

How was your Sunday? Did you do anything special? I want to know!