o u t f i t
|
stretch lace blouse //
thrifted |
brown tank top
// thrifted {Chadwicks} |
Parisian print skirt //
thrifted |
brown flats
// thrifted |
necklace //
gifted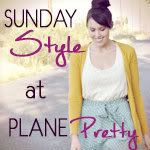 This outfit strikes me as having a vintage 20s vibe to it. It's the dropped waist coupled with the pleated skirt, I think. Last week two of my friends and I went thrifting. And I really hit the jackpot this time, the lace blouse and brown tank being two of my many finds. Most of the stores we shopped were having sales, too. Thrifting is already awesome, but when everything is also on sale?? Totes awesome!!
: :
I'm bringing home another critter this week!
Any guesses as to what kind of animal my new friend is?
p.s.
here's a hint for you: it doesn't have hooves.